The Benefits of Premium Membership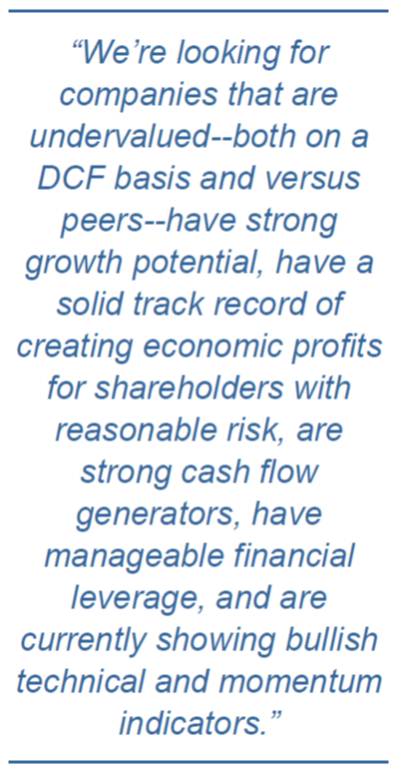 Sign Up Today. First 14 days FREE!
At Valuentum (val∙u∙n∙tum) [val-yoo-en-tuh-m], we strive to stand out from the crowd. Most investment research publishers fall into a few camps, whether it be value, growth, income, momentum, chartist or some variant of the aforementioned. We think each in its own right holds merit, but the combination of these approaches is even more powerful. After all, stock price movements aren't just driven by investors of the value or growth variety, but by all market participants. Therefore, we look at stocks from a variety of investment perspectives in order to better understand and capitalize on opportunities. We want to provide our clients and subscribers with relevant information.
Though the breadth of our analysis is large, the core of our process centers on in-depth discounted cash flow analysis and the concept of a margin of safety (invented by Benjamin Graham and embraced by Warren Buffett and Valuentum). In our 16-page stock reports, we offer a fair value estimate for each company and assess the attractiveness of the firm's valuation based on its respective margin of safety. We also provide a relative valuation assessment in the context of the firm's industry and peers. A cross section of our ValueCreation and ValueRisk ratings provides a financial assessment of a company's business quality and competitive advantages, while our ValueTrend and Economic Castle ratings offer insight into the trajectory of a firm's economic profit creation (ROIC versus WACC).
Our analysis doesn't stop there. We offer a technical evaluation of the stock as well as an assessment of other momentum indicators. We not only want to reveal to investors which firms are undervalued (both on a discounted cash flow and relative value basis), in our view, but we also want to provide investors with the information needed to anticipate entry and exit points. Most investment research publishers focus on arriving at a target price or fair value estimate, but fall short of providing a technical or momentum assessment to bolster buy and sell disciplines. We go the distance and strive to provide investors with answers--not half the story.
An explanation of our approach would not be complete if we didn't describe our ideal stock idea. We're looking for companies that are undervalued--both on a discounted cash flow basis and versus peers--have strong growth potential, have a solid track record of creating economic profits for shareholders with reasonable risk, are strong cash flow generators, have manageable financial leverage, and are currently showing bullish technical and momentum indicators. These firms typically score a 9 or 10 on the Valuentum Buying Index, our stock-selection methodology. We also provide dividend reports and calculate a company's forward-looking, cash-flow based measure of dividend health, the Dividend Cushion ratio, to offer a unique picture of the investment opportunity, from value through momentum!
Become a member of Valuentum to gain access to our premium commentary, including our 16-page stock and dividend reports. The premium plan offers complete access to our website and includes both the Best Ideas Newsletter and Dividend Growth Newsletter (each delivered monthly). These newsletters showcase how we put the fair value estimate, fair value range, Valuentum Buying Index, and Dividend Cushion ratio, among other metrics, into practice. Please see more details about Valuentum's subscription plans below. Please also don't forget about the High Yield Dividend Newsletter or the Nelson Exclusive publication, valuable add-on features to any membership.

<< Add the Nelson Exclusive publication
Sign Up Today. First 14 Days FREE!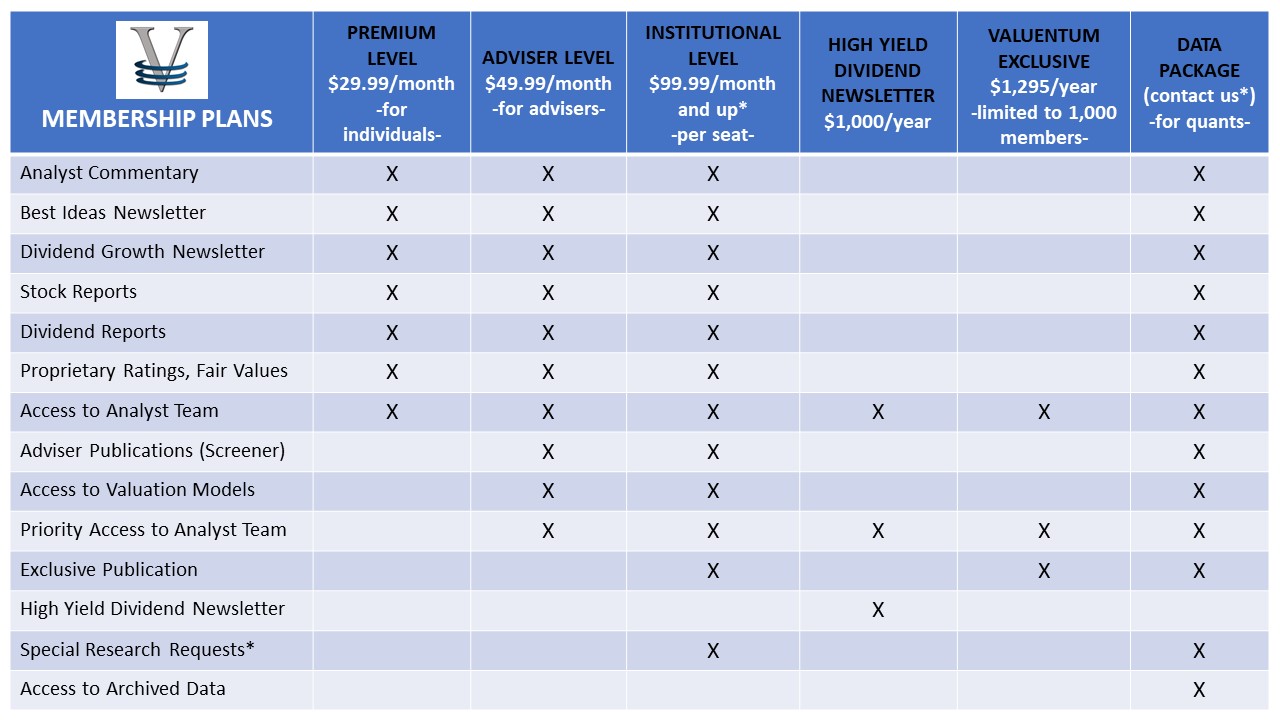 If you are a financial adviser and would like to learn more about how we can help your practice, please click here. If you would like to use our services in an institutional setting, please contact a sales representative to find out how we can help.
If you are not happy with our service, cancel within 14 days of the start date by emailing info@valuentum.com. You will not be charged anything. After the first 14 days, you may cancel at any time, and we will recalculate the cost of the subscription for the period the subscription was used (at current applicable monthly rates) and will refund any difference less transaction fees. No refunds are provided for monthly subscriptions. Your complete satisfaction is our top priority.
About the Best Ideas Newsletter
Sign Up to Receive Our Best Ideas Newsletter!
As part of your subscription to Valuentum, you will receive in your inbox on the 15th of each month our monthly Best Ideas Newsletter (in pdf format), which reveals our best ideas for capital appreciation potential constructed in a portfolio. This portfolio of best ideas may contain long positions as well as put and call options.
In the Best Ideas Newsletter, we write commentary associated with the companies in the portfolio and on stocks in the news, and notify you immediately via email if our thoughts or opinions have changed on any company or position. We send you notification emails, so you don't miss a beat.
Consistent with our investment methodology, the Valuentum Buying Index, the best ideas in the Best Ideas Newsletter portfolio may span investing disciplines, market capitalizations and asset classes. Very few newsletters apply a time-tested (yet innovative) process and embrace transparency. We can proudly say that we are among the few. Past results are not a guarantee of future performance.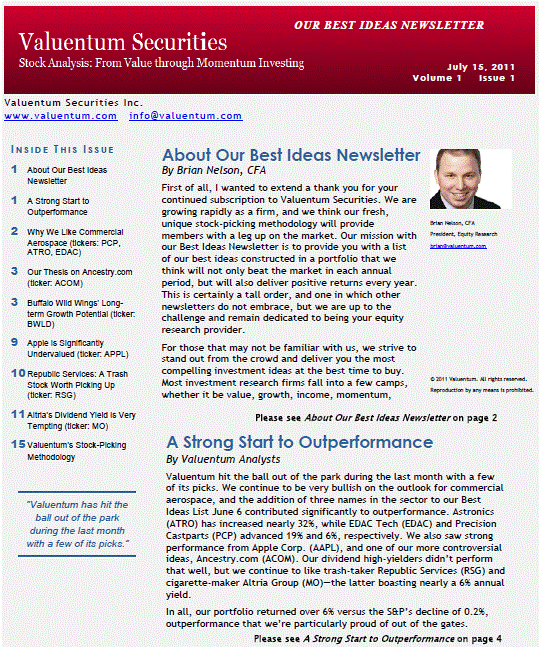 Click here to subscribe now and receive the next edition of our monthly Best Ideas Newsletter in your inbox and gain access to all premium commentary on our site.
Below we outline a few very brief summaries of ideas that we currently include in the Best Ideas Newsletter portfolio. Please note that these are just a few examples, and the Best Ideas Newsletter showcases many more ideas with each and every monthly edition. Join Today!
Apple (AAPL)
At Valuentum, we often use a discounted cash-flow model as a means to back into the current share price of firms in order to ascertain whether the market is unfairly pricing their stock relative to reasonable long-term growth and profitability assumptions. In Apple's case, we believe the market is merely pricing in inflation-like expansion beginning toward the latter end of this decade. Although in the land of technology, competition adapts quickly and a few years from now can be viewed as the distant future, we think the iPhone-maker represents a compelling risk-reward opportunity at current levels based on our analysis. Often, evaluating a firm via a discounted cash-flow model and re-engineering its stock price can provide a better understanding of a company's investment potential on a risk-reward basis than even the most clearly written prose.
<< Our 16-page Equity Research Report on Apple (AAPL)
Booking (BKNG)
Booking, formerly called Priceline, is probably one of the best more-recent examples of the Valuentum Buying Index in practice. Registering a pristine 10 in February 2015, the stock now has been a strong winner in the portfolio of the Best Ideas Newsletter. The online travel giant continues to generate substantial free cash flow as it grows at an impressive rate, and we love its net cash position, inclusive of long-term investments.
Management's comments have also been quite reassuring to the pace of global economic resilience. International business accounts for ~90% of Priceline's gross bookings, with the US making up the balance. Such a cash-rich business eases our concerns with the risk involved in holding an entity so sensitive to the economic cycle at this mature point in the global economy's expansion. Shares continue to have some room to run based on the upper bound of our fair value estimate range.
Booking's virtuous cycle is firmly intact and represents one of the strongest competitive advantages a company could ever have. Strong partner relationships allow it to provide top-notch property selection, an enhanced customer experience helps drive increased conversion and traffic, while increased traffic allows it to further improve the customer experience and partner satisfaction.
Visa (V)
It's hard to find anything wrong with Visa's business model. The company offers a secure, payment network that is accepted virtually everywhere in the United States. The firm makes money every time a Visa user swipes his or her debit or credit card. Unlike rivals, Discover and American Express, Visa doesn't hold customer credit risk.
Visa benefits from two fantastic competitive advantages: a network effect and costly initial investment. The network effect is incredibly strong for Visa. As of its last update, the firm has more than 3.1 billion cards outstanding accepted by retailers across the world. The number is significantly higher than the number of Mastercards and many times the number of American Express cards outstanding. This network effect took years, as well as billions of dollars to create—something that won't easily be replicated by any new entrant.
Most importantly, Visa generates incredible operating margins in the 60% range, leading to large levels of free cash flow generation. The company continues to possess valuation upside and is one of the most shareholder-friendly companies in our coverage universe.
<< Our 16-page Equity Research Report on Visa (V)
<< Our Dividend Report on Visa (V)
About the Dividend Growth Newsletter
At Valuentum, we seek to deliver to members our best dividend growth ideas, and our Dividend Growth Newsletter does just that for dividend growth investors. We provide the following in each edition of the monthly Dividend Growth Newsletter, released on the 1st of each month:
A portfolio of dividend growth stocks that we think will generate a strong and growing stream of cash flows

A forward-looking assessment of the dividend safety of hundreds of firms through our innovative, predictive dividend-cut indicator, the Valuentum Dividend Cushion™. We use our future forecasts for free cash flow and expected dividends and consider the firm's net cash position to estimate if each company is able to pay out such dividend obligations -- long into the future.

Learn more about the Valuentum Dividend Cushion ratio >>

Commentary and analysis about the stocks we include in the portfolio and on any new dividend growth ideas to consider. We also cover dividend-related news.

Helpful screens that overlay the

Valuentum Buying Index™

with dividend-payers that have strong and growing dividends. We also publish a list of dividend yields to avoid.

Email notifications of any changes we may make to the portfolio, and whether material events have happened to companies held within it.

Past results are not a guarantee of future performance.
Sign Up to Receive the Dividend Growth Newsletter! Home of the Valuentum Dividend Cushion!
Add the High Yield Dividend Newsletter to Your Membership!
The Benefits of Dividend Growth Investing
History has revealed that some of the best performing stocks during the previous decades have been those that shelled out ever-increasing cash to shareholders in the form of dividends. In a recent study by Ned Davis Research, S&P 500 stocks that initiated dividends or grew them over time registered roughly a 9.6% annualized return since 1972 (through 2010), while stocks that did not pay out dividends or cut them performed poorly over the same time period.
Such analysis is difficult to ignore, and we believe investors may be well-rewarded in future periods by finding the best dividend-growth stocks out there. As such, we've developed a rigorous dividend growth investment methodology that helps to uncover firms that not only have the strongest dividends but also ones that are poised to grow them long into the future.
How did we do this? Well, first of all, we scoured our stock universe for firms that have cut their dividends in the past to uncover the major drivers behind the dividend cut. This is what we found out: The major reasons why firms cut their dividend had to do with preserving cash amid a secular or cyclical downturn in demand for their products/services or when faced with excessive leverage (how much debt they held on their respective balance sheets) during tightening credit markets.
The Importance of Forward-Looking Dividend Analysis
Informed with this knowledge, we developed the forward-looking Valuentum Dividend Cushion™, which is a ratio that gauges the safety of a dividend over time.
Most dividend analysis that we've seen out there is primarily backward-looking--meaning it rests on what the firm has done in the past. Although analyzing historical trends is important, we think assessing what may happen in the future is even more important. The S&P 500 Dividend Aristocrat List, or a grouping of firms that have raised their dividends for the past 25 years, is a great example of why backward-looking analysis can be painful. One only has to look over the past few years to see the removal of well-known names from the Dividend Aristocrat list (including General Electric and Pfizer) to understand that backward-looking analysis is only part of the story. After all, you're investing for the future, so the future is what you should care about more.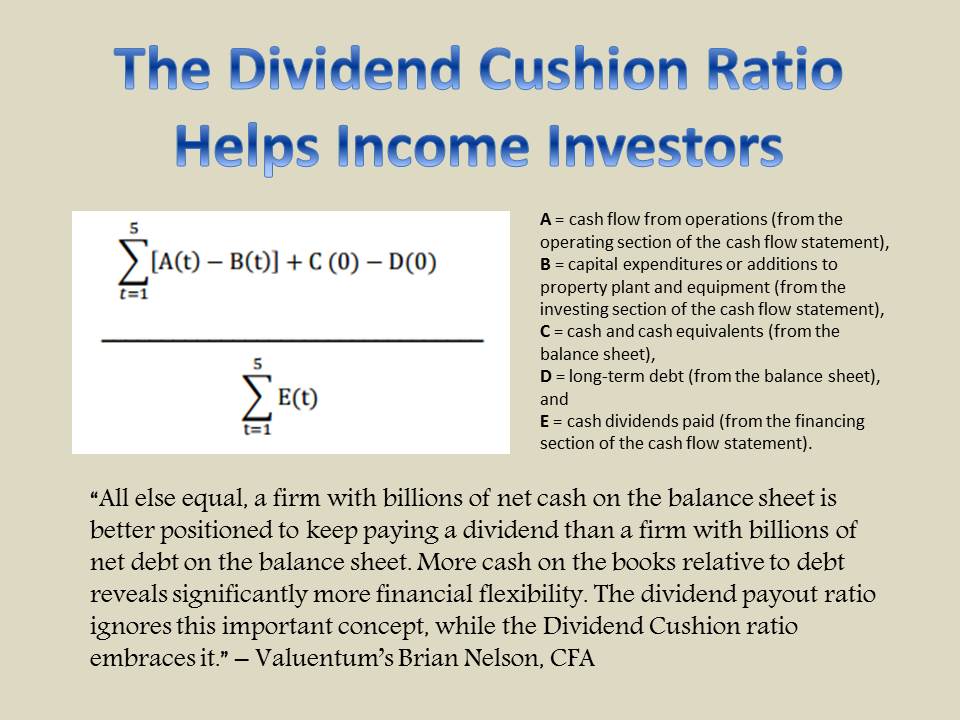 We want to find the stocks that will increase their dividends for 25 years into the future, not use a rear-view mirror to build a portfolio of names that may already be past their prime dividend growth years. The Valuentum Dividend Cushion™ ratio measures just how strong the dividend payment is in the future. It considers the company's net cash on its balance sheet (cash and cash equivalents less debt) and adds that to its forecasted future free cash flows (cash flow from operations less capital expenditures) and divides that sum by the firm's future expected cash dividend payments. At its core, the measure tells investors whether the company has enough cash to pay out its dividends in the future, while considering its debt load. If a company has a Valuentum Dividend Cushion™ ratio above 1, it generally can cover its dividend on the basis of our estimates, but if it falls below 1, trouble may be on the horizon.
In our study, the Valuentum Dividend Cushion™ process caught every dividend cut made by a non-financial, operating firm that we have in our database, except for one (Marriott). But interestingly, the Valuentum Dividend Cushion™ ratio indicated that Marriott should have never cut its dividend, and sure enough, two years after the firm did so, it raised it to levels that were higher than before the cut. Here are the results of the study (a Valuentum Dividend Cushion™ below 1 indicates the dividend may be in trouble). The Valuentum Dividend Cushion™ score shown in the table below is the measure in the year before the firm cut its dividend, so it represents a predictive indicator. The measure continues to do well by members in real-time as well (beyond the constraints of any academic study).
Please view this article to learn more: Our Dividend Methodology...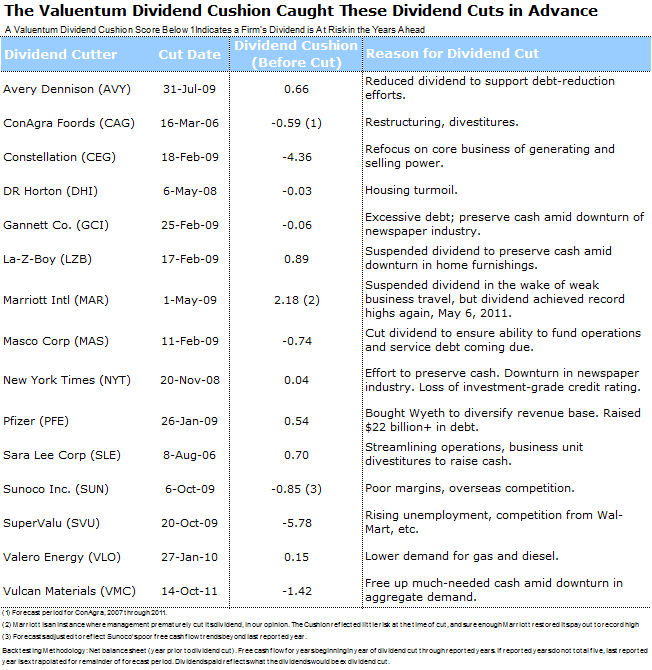 Sign Up to Receive our Dividend Growth Newsletter!
Add the High Yield Dividend Newsletter to Your Membership!
At the very least, using the Valuentum Dividend Cushion™ ratio can help you avoid stocks that are at risk of cutting their dividends in the future, and we are the only investment research firm out there that does this type of in-depth, forward-looking cash-flow analysis for you. We provide the Valuentum Dividend Cushion™ ratio in the dividend reports and monthly Dividend Growth Newsletter, and we also scale the safety of a firm's dividend based on this measure in simple terms: Excellent, Good, Poor, Very Poor. Here's a glimpse of the Valuentum Dividend Cushion™ ratios (as of November 2017) for a sample set of stocks in our coverage universe. Please note that the current ratio on these and hundreds more are available with a membership to our website.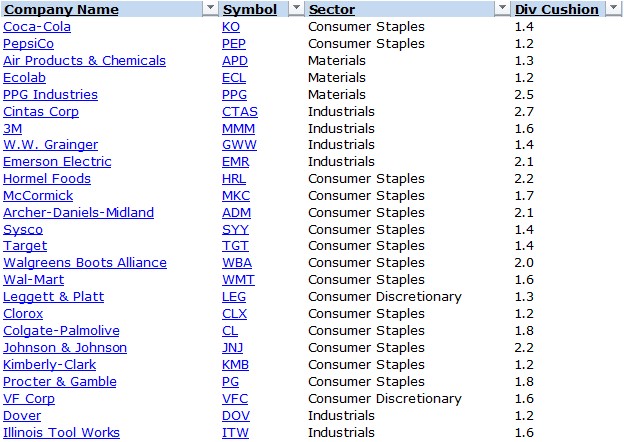 Source: Valuentum
Understanding Dividend Growth
It takes time to accumulate wealth through dividends, so dividend growth investing requires a long-term perspective. We assess the long-term future growth potential of a firm's dividend, and we don't take management's word for it. Instead, we dive into the financial statements and make our own forecasts of the future to see if what management is saying is actually achievable. We use the Valuentum Dividend Cushion™ ratio as a way to judge the capacity for management to raise its dividend – how much cushion it has – and we couple that assessment with the firm's dividend track record, or management's willingness to raise the dividend.
In many cases, we may have a different view of a firm's dividend growth potential than what may be widely held in the investment community. That's fine by us, as our dividend-growth investment horizon is often longer than others'. We want to evaluate whether the company has the capacity and willingness to increase the dividend years into the future and will not be weighed down by an excessive debt load or cyclical or secular problems in fundamental demand for their products/services. We scale our dividend-growth assessment in an easily-interpreted fashion: Excellent, Good, Poor, Very Poor.
What Are the Ideas We Seek to Deliver in the Dividend Growth Newsletter?
First, we're looking for stocks with annual dividend yields that are greater than the average of the S&P 500, or about 2% (but preferably north of 3%). This excludes many companies, but we think such a cutoff eliminates stocks whose dividend streams aren't yet large enough to generate sufficient income. Second, we're looking for companies that register an 'EXCELLENT' or 'GOOD' rating on our scale for both safety and future potential dividend growth. And third, we're looking for stocks that have a relatively lower risk of capital loss, as measured by our estimate of the company's fair value. We strongly prefer dividend growth gems that are underpriced.
Sign Up to Receive our Dividend Growth Newsletter!
Add the High Yield Dividend Newsletter to Your Membership!
The High Yield Dividend Newsletter portfolio, Best Ideas Newsletter portfolio and Dividend Growth Newsletter portfolio are not real money portfolios. Results are hypothetical and do not represent actual trading.
--------------------------------------------------
About Our Name
But how, you will ask, does one decide what [stocks are] "attractive"? Most analysts feel they must choose between two approaches customarily thought to be in opposition: "value" and "growth,"...We view that as fuzzy thinking...Growth is always a component of value [and] the very term "value investing" is redundant.
-- Warren Buffett, Berkshire Hathaway annual report, 1992
At Valuentum, we take Buffett's thoughts one step further. We think the best opportunities arise from an understanding of a variety of investing disciplines in order to identify the most attractive stocks at any given time. Valuentum therefore analyzes each stock across a wide spectrum of philosophies, from deep value through momentum investing. And a combination of the two approaches found on each side of the spectrum (value/momentum) in a name couldn't be more representative of what our analysts do here; hence, we're called Valuentum.
--------------------------------------------------
Valuentum has developed a user-friendly, discounted cash-flow model that you can use to value any operating company that you wish. Click here to buy this individual-investor-friendly model now! It could be the best investment you make.
--------------------------------------------------

The High Yield Dividend Newsletter, Best Ideas Newsletter, Dividend Growth Newsletter, Nelson Exclusive publication, and any reports and content found on this website are for information purposes only and should not be considered a solicitation to buy or sell any security. Valuentum is not responsible for any errors or omissions or for results obtained from the use of its newsletters, reports, commentary, or publications and accepts no liability for how readers may choose to utilize the content. Valuentum is not a money manager, is not a registered investment advisor, and does not offer brokerage or investment banking services. The sources of the data used on this website and reports are believed by Valuentum to be reliable, but the data's accuracy, completeness or interpretation cannot be guaranteed. Valuentum, its employees, independent contractors and affiliates may have long, short or derivative positions in the securities mentioned on this website.